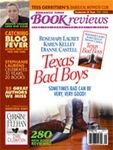 So...finally got my Sept. RT. Let's see if there's anything interesting.
Cover:
Texas Bad Boys
.
Sybil
has had posts up about this and the authors on her blog
Hmm...apparently
Lori Foster
has another book coming out called
Murphy's Law
. I haven't really gotten into her books, so I'll pass on this one.
Mailbag: Someone doesn't like first person romances and wishes they would die a painful death (my wording, not hers). Eh, I like them. :-)
Bigass ad for
Stephanie Laurens
and it looks like many of her books are getting new covers.
Article on
Texas Bad Boys
(page 10). I'm not really one for Texas stuff, so I really didn't read the article. Sorry.
Ooh...article about
Tess Gerritsen
and the new book,
The Mephisto Club
. Can't wait to read it as it looks awesome. Also looks like her next book is going to be "a historical mystery set in the 1830s Boston." Going to deal with grave-robbing and "child bed fever". Sounds fascinating and I'm sure I'll want to read it.
Warner Forever
ad. I really want to read
Make Me a Match
by
Diana Holquist
.
Fan Forum (page 15): Talks about
Water for Elephants
by
Sara Gruen
. At least one person at work has read it and really loved it. I keep meaning to read it, but probably won't for awhile. But it's well-recommended.
Also in the Fan Forum *page 18) is mention about Harlequin partnering with Vocel to put serialized novels on cell phones. I think I'll pass on this. But there will be entries by Maggie Shayne, Tina Leonard, and Kylie Brandt.
Page 20 is a Great Authors We Miss thing. Number 1 is Laura London aka Tom and Sharon Curtis) AND on the opposite page is an article about them! Seems Sharon is working on a new historical romance. Bet there will be some people happy to hear that.
Apge 22 has an article on
Dennis Lehane
. Haven't read him, but may in the future.
Page 24 has an article on group author blogs. Then a blog roll call. Unfortunately (or fortunately), the only new one to me was Title Wave that has the contestants of the American Title competition.
RT Clubhouse (page 27) has article on Jo-Ann Powers. Never read anything by her. Next page has writeup on
Michele Bardsley
and her book,
I'm the Vampire, That's Why
. I want to read it. :-) Same page has inset about
J.R. Ward
, but doesn't really say anything new. Next page has info about Diana Holquist's new book and Gypsies. And then a writeup about
Shana Galen
. Very cute little piece that includes how she met her husband. And then on the next page has a thing about a historical author turning to inspirationals (eh) and then a writeup about two books dealing with purgatory. They're
Sex and the Single Ghost
by Tawny Taylor and
Retrieval
by Jeanie London. I definitely want to get the London book, and want to read the Taylor one.
Ad for a writing book by Janet Evanovich. Eh. Then Pros on Prose, which I usually skip. :-)
Then an article about Stephanie Laurens and her new book,
To Distraction
. I've sorta lost interest in her books, so her tidbits about future books doens't really fire me up.
And page 38. Romance News. Looks like
Brenda Joyce
is going paranormal with her new series. "time-traveling medieval Highland warriors". Oh please, not more of them!
Oooh..looks like
The Other Boleyn Girl
by Phillipa Gregory is going to be made into a movie and may star Natalie Portman and Eric Bana.
Alright, time for reviews and what books I personally think look interesting.
Up first is historicals:
The Book of True Desires
by
Betina Krahn
. Got a Top Pick. But a whole helluva lot of books this month got Top Picks, so I think I'm going to take that rating with a grain of salt. Still want to read the book, though.
No Man's Bride
by
Shana Galen
. 4 stars. Looks to be the first in a series called Misadventures in Matrimony.
The Gladiator's Honor
by
Michelle Styles
. Got 3 stars, but hey, it's set in Rome so I at least need to support authors and pubs who do something new and different.
Now for Mainstream Fiction:
Another Cedar Cove book by
Macomber
. At work, Macomber is one of the authors who sells the best. I'm always stocking up her area. Not personally going to read her book, but thought it worth mention.
We're skipping the inspirational section. My blog, my decision. So there.
Big two page ad for HQN. They have some awesome covers.
Science Fiction/Fantasy reviews:
Benighted
by
Kit Whitfield
looks interesting. Werewolf book.
Hounding the Moon
by P.R. Frost sounds interesting from the blurb, but the two star review doesn't make it sound promising.
Oooh....
Dead Man Rising
by
Lilith Saintcrow
for a Top Pick. Congrats Lilith!
Armageddon's Children
by Terry Brooks looks interesting. New series, but looks to maybe be related to the Knights of the Word series. I most likely won't read it for a long while, but...interesting.
Romantic Suspense reviews up next:
Okay, that's sad. Nothing really catches my eye.
Mystery, Suspense & Thriller review section:
Aha, a review of
The Mephisto Club
by Tess Gerritsen. Top Pick. I'm already on the list at the library for when it comes out.
The Trouble With Witches
by Shirley Damsgaard. Got 4 stars. I've had an ARC that I got at work for awhile, but need to read the previous book first. I did like the first book in this series.
Pale Immortal
by Anne Frasier. I've enjoyed all the books of hers that I've read, so I'm going to be getting this one.
Cattery Row
by
Clea Simon
. 3 stars, but it's a cat mystery! And I liked the first book in the series. It's also up soon in my online cat mystery book club.
Killer Insight
by
Victoria Laurie
. Ouch, two stars. But I'll probably at least read it since I've liked the series so far.
Okay, Contemporary Romance reviews up next:
Everything's Coming Up Rosie
by
Kasey Michaels
looks cute and got a Top Pick.
Okay, what the heck is the difference between 4 and a half stars and a Top Pick? The reviews certainly don't tell me.
Make Me a Match
by Diana Holquist for 4 1/2 stars, but no Top Pick. Hmmm....still gonna get the book.
Out of This World
by
Jill Shalvis
got 3 stars, but I'll still definitely be getting this one.
Morrigan's Cross
by Nora Roberts. First in the new Circle trilogy and look interesting. It'll be the first of her trilogies that I'll be picking up. :-)
True Blood
by Patricia Waddell. a futuristic romance! Yay! Looks good. I'll definitely be getting it.
Slave to Sensation
by Nalini Singh. been getting interesting buzz, so I think I'll have to get it. I don't like the cover though.
Dark Dreamers
by Marjorie M. Liu and Christine Feehan. I'd get this just for the Liu story. I don't care for Feehan at all.
Heart Quest
by Robin D. Owens. I'll also be getting this one since I've liked all the others in the series.
Dead End Dating
by Kimberly Raye. 4 stars. Humorous vampire story.
Playing With Fire
by Gena Showalter. 4 stars. Love the cover. I have several Showalter books on teh shelf and haven't been able to get into any of them, but I think I'll still grab this one since it sounds so intriguing.
ANOTHER ad for AvonFanLit.com
Series Romance reviews:
After all the Blazes I bought this month (august), it's a good thing nothing looks interesting for September.
Bombshell:
Getaway Girl
by Michele Hauf looks good. As does
Dark Revelations
by Lorna Tedder (Madonna Key book).
Erotica reviews:
High School Reunion
by Kimberly Dean looks good. I think I have the book somewhere around here. Got it at work.
Dakotah's Reading
by Jory Strong. I really wnat to try one of Strong's books, but am still iffy about them. Bah, I need to win one so I can try one.
Sinderella
by Jan Springer has a cool cover.
Whole lot of three star reviews in this section. And oh, a two star one for
Mona Lisa Awakening
by Sunny. Looks like the reviewer didn't like the resemblance between MLA and Bishop's Black Jewels series and found MLA the one to be lacking.
Well, that's it for reviews. Just the Nov. 2006 Publishers Previews pages and I'm not going to rehash all that. You can probably find all that info online anyways.
And that's it for the issue. I always skip the classifieds anyways.
And now I'm going to work.