Yes,
Kristie
, I finally read
Dreaming of You
by
Lisa Kleypas
. And yes, it was oh so good.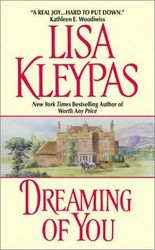 She stood at peril's threshold --
then love beckoned her in…

A prim, well-bred gentlewoman, Sara Fielding is a writer who puts pen to paper to create dreams. But now curiosity is luring her from the shelter of her country cottage into the dangerous world of Derek Craven -- handsome, tough, and tenacious -- and the most exciting man Sara has ever met.

Derek rose from poverty to become the wealthy lord of London's most exclusive gambling house. And now duty demands that he allow Sara Fielding to enter his perilous realm of ever-shifting fortunes -- with her impeccable manners and her infuriating innocence. But there is a hidden strength and sensuality to the lady that captivates him beyond his better judgment. And in this world, where danger lurks behind every shadow, even a proper "mouse" can be transformed into a breathtaking enchantress -- and a cynical gambler can be shaken to his core by the power of passion and the promise of love.
What can I say? This is truly a great book. Derek's definitely done some nasty stuff to get where he is now, but by the end of the book, I really felt like he'd changed. I loved how his accent would come out when he was angry or excited. I thought that was very well done and showed just how much certain things were affecting him (like falling in love with Sara despite himself). I liked Sara. She's innocent and occasionally naive, but never TSTL. Stupid, at times, but never TOO stupid.
I'm not quite sure I'd count Derek Craven as my all-time favorite romance hero, but I think he's going to be pretty high up the list. He's definitely an unforgettable character. Sara's definitely a match for him and I got a real sense that their marriage would last. It would have its ups and downs, but I really felt like they'd get through it.
Now I can't wait to dive into
Devil in Winter
, but I don't want to do it right away in case
Dreaming of You
would overshadow it too much.
And of course, now I have to go read more Lisa Kleypas. And hey, I've got plenty of books to read, since I've only read the two previous Wallflowers books and now DOY. Yay!
So I now know why Kristie has been on her mission to promote
Dreaming of You
. It's definitely a romance that shines with uniqueness, love, and wonderful writing.